Blood Gulch Ghost Shroom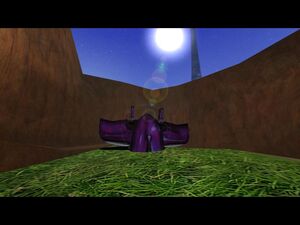 Ghost Shroom on the Big Hill
Classification
Game:

Halo (PC)




Mode:

Multiplayer




Map:

Blood Gulch




Type:

Inside




Subtype:

Vehicle Insides




Stunt:

Ghost Shroom



Informal Data
See Ghost Shroom for general stunt description.
The Ghost Shroom on Blood Gulch was created late March or early April 2006 by Gil.[1]
Tutorial
Edit
Method 1
Edit
Make a Ghost Seat Shark (Blood Gulch at the top of Red Base.
Ram the Shark towards and into one of the doorways that lead to the front of the base.
Push the Half-Shroom towards the left side of the big pillar to the left of the portal.
Push the Half-Shroom nonstop, mainly from its right side, until resistance disappears and it sways in place.

Be careful to stop pushing it once resistance disappears.

Push the Shroom from its left side, so that it falls down off of the base close to the pillar, with the bottom of the Ghost facing the ground.

If this ghost is at all sideways when it falls it will become a Seat Shark when it lands.
Once the shroom has fallen off of the base, feel free to push it around anywhere on the map.
Other information
Edit
The Blood Gulch Ghost Shroom was the first to be forced into scenery, including rocks and trees.[1]
Related pages
Edit
↑ 1.0 1.1 Team sLiDiNgMuNkY -> §-official Pic Posting Thread-§


The Official picture posting thread on TSM Forums. This is where the picture of the shroom first appeared, on

page 63

April 3, 2006.

[HTML PAGE]