Ghost in Portal (Shroom)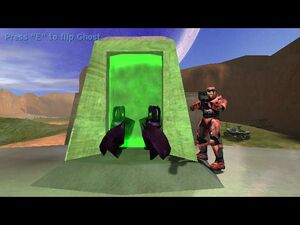 I put your teleporter on shroomz.
Classification
Game:

Halo: Combat Evolved




Mode:

Multiplayer




Map:

Blood Gulch




Type:

Inside




Subtype:

Vehicle Insides




Stunt:

Ghost In Portal (Shroom)



Informal Data
Nicknames:
Ghost Shroom in Portal
The Ghost in Portal (Shroom) is a Vehicle inside that exploits the wing and middle break points of the Ghost. In the stunt, a half-shroom is pushed into the portal on Blood Gulch by the wing break point.
Create a Half Shroom on the base.
With the Banshee, move the Shroom so it is positioned in front of the portal, with the underside of the Ghost facing you.
Push the left wing of the Shroom in the left wall of the portal.
Push the wing that is outside of the portal until it is in the back of the portal.
Other Information
Edit
There are more then 23 ways to get a ghost in a portal on Blood Gulch.
You can jam up to two Ghost Shrooms in the portal at one time, if you push them in right.
Related Pages
Edit