Ghost in Rail (Seat Hang)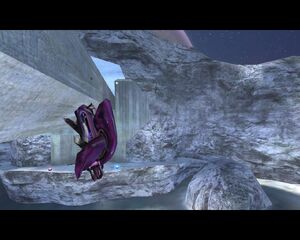 Classification
Game:

Halo (PC)




Mode:

Multiplayer




Map:

Ice Fields




Type:

Inside




Subtype:

Vehicle Inside




Stunt:

Ghost in Rail (Seat Hang)



Informal Data
The Ghost in Rail (Seat Hang) stunt involves forcing a Ghost's seat inside of the rail of the bridge or one of the platforms on Ice Fields so the Ghost is facing the ground.
Tutorial
Edit
Drive the Ghost onto the rail sideways, so its wing goes over the rail first.
Straighten the Ghost and hold reverse.
Once the Ghost Seat Connector is inside of the rail exit the Ghost.
Other information
Edit
Related pages
Edit