Hog in Bridge (Hood Down)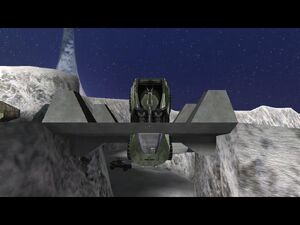 Classification
Game:

Halo: Combat Evolved




Mode:

Multiplayer




Map:

Sidewinder




Type:

Inside




Subtype:

Vehicle Insides




Stunt:

Hog in Bridge (Hood Down)



Informal Data
The Hog in Bridge (Hood Down) stunt is an inside that implements the hood break point on the Warthog at the small bridge on Sidewinder. It involves forcing the Warthog in the bridge so its hood is facing the ground. Its mobility is limited because the bridge is very small and because there is a bar under the bridge that limits vehicles inside of the bridge to one side of it.
Tutorial
Edit
Set up a Warthog on the bridge so it is hanging off of one side of the bridge facing the ground.
Ram the Warthog into the bridge using a Banshee.