Ledge in Skylight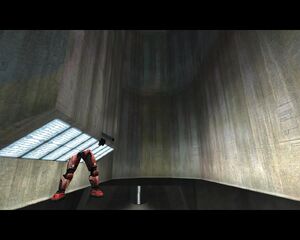 Classification
Game:

Halo: Combat Evolved




Mode:

Multiplayer




Map:

Sidewinder




Type:

Ledge




Subtype:

Wall Ledge




Stunt:

Ledge in Skylight



Informal Data
The Ledge in Skylight is a ledge that involves tank lifting in the skylight in the tunnels on Sidewinder.
Tutorial
Edit
This method requires the cooperation of two players, who shall be referred to as Player 1 and Player 2.
Bring a tank to the tunnels on Sidewinder.
Have Player 1 set the tank up beneath the skylight so its turret is directly under the outcropping.
Have Player 2 get on top of the turret of the tank.
Have Player 1 lift Player 2 into the outcropping.
Other Information
Edit
You can ledge all around the shaft and inside of the outcropping.