Upper Bridge Ledge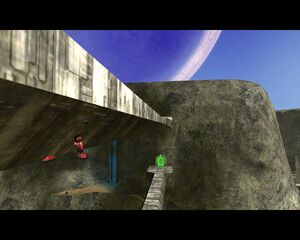 Classification
Game:

Halo (PC)




Mode:

Multiplayer




Map:

Infinity




Type:

Ledge




Subtype:

Ceiling Ledge




Stunt:

Upper Bridge Ledge



Informal Data
The Upper Bridge Ledge involves shee lifting into one of the two upper bridges on Infinity, then ledging the length of the bridge.
The Ledge in Upper Bridge stunt was first seen in part 3 of Arma's Stunting Extravaganza, with Arma doing the shee lift and Main ledging the bridge. In the video the ledge was called "Bridge Ledge".
Tutorial
Edit
This method requires the cooperation of two players, who shall be referred to as Player 1 and Player 2.
To begin, have Player 1 enter a Banshee and position it by driving into the wall directly above any of the four portals at the middle of the map.
Then, have Player 2 jump on top of Banshee.
Have Player 1 slowly aim upwards, so that they begin to lift the player up to the upper bridge.
When the Banshee is directly below the upper bridge, have Player 2 move to the front of the Banshee so they will be directly below it.
Then, have Player 1 continue lifting.
If Player 2 slides off of the front of the Banshee have Player 1 lower their Banshee so that Player 2 may reposition themselves.
When Player 2 is fully inside of the upper bridge have Player 1 slowly move their Banshee to either side of the bridge. While Player 1 is adjusting have Player 2 stay completely centered on the Banshee by moving with it.
Once Player 1's banshee has reached the edge of the bridge have Player 2 jump onto the ledge on the edge of the bridge.
Finally, have Player 2 jump into the main section of the bridge.
Other information
Edit
It is harder to shee lift above some of the portals than others.
Related pages
Edit