Hog on Tank Balance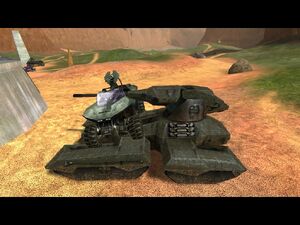 Classification
Game:

Halo (PC)




Type:

Balance




Subtype:

Kinetic Balance




Stunt:

Hog on Tank Balance



Informal Data

A Warthog on Tank Balance is a kinetic balance that involves a Warthog sitting sideways on a Scorpion. The balance is mobile, but can only be moved very slowly and on very flat surfaces.
Instructions
Edit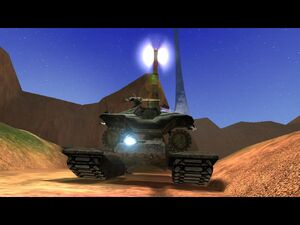 Place a Warthog against a vertical wall so that either the driver's or passenger's seat is parallel to the wall. Although it is possible to perform the balance with either type of Warthog, the machine gun hog is slightly easier to lift onto the tank.
Take a Scorpion tank and face the Warthog's side (so that the tank is also facing the wall). Using either the right or left tread of the tank, lift the opposite wheel of the Warthog to turn it slightly on its side.
Once the Warthog has been lifted, it should start to fall back down. Before the Warthog falls back to its upright position, return the tank to its original orientation facing the wall. Drive into the Warthog slowly so that the Warthog is eased onto the tank.
Make sure the Warthog stays upright. Keep driving toward the wall until the barrel of the tank's cannon fully pierces the top of the Warthog. When the Warthog stops sliding back toward the ground, the stunt has been performed correctly
Other Information
Edit
The Warthog on Tank Balance is mobile, but can only be moved very slowly, by tapping forward very slowly.
The Warthog on Tank Balance may slide if it is not done on flat ground.
Related Pages
Edit